Medical assistants are responsible for carrying out clinical and administrative tasks in healthcare facilities, physician's offices, clinics and hospitals.
If you think you have what it takes to carry out the above set of duties, then you might want to read this article about the salary trends of medical assistants in the US.
Sponsored Listings
Medical Assistant Salary Trend in the U.S
The figures presented below have been taken from the US Bureau of Labor Statistics. The data shows a detailed salary trend of Medical Assistants for the past few years.
| Year | Annual Mean Salary |
| --- | --- |
| 2016 | $32,850 |
| 2017 | $33,580 |
| 2018 | $34,540 |
Source: US Bureau of Labor Statistics
In 2016, medical assistants made an annual mean wage of $32,850. This figure saw a slight increase in 2017, when the annual mean pay increased to $33,580. In 2018, this figure jumped to $34,540, the highest it had been in three years.
Medical Assistant Salary Comparison among Different U.S States
The bar chart below will help you understand difference in the annual mean salaries of medical assistants in the US. The top paying states in 2018 included Alaska, District of Columbia, Washington, Minnesota, and Massachusetts.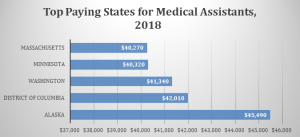 Source: US Bureau of Labor Statistics
The bar-chart reveals that Alaska was the highest paying state in 2018, whereas Massachusetts was the fifth highest paying state for medical assistants.
Job Outlook Data for Medical Assistants
Medical assistants generally have good employment prospects, especially those who are familiar with electronic health records (EHRs). The US Bureau of Labor Statistics has predicted that the employment of medical assistants will shoot up by 23% from 2018 to 2028. This will lead to a creation of 154,900 more jobs. As the baby-boomers are aging, the demand for preventive medical services is also increasing. Hence, the demand for medical assistants is also expected to rise.