Most medical assistants work in public and private hospitals, clinics or other healthcare facilities like physician's offices etc. The job description of a medical assistant varies from one workplace and specialization to another. However, their general duties include, administrative and/or clinical tasks. The profession of a medical assistant has two paths. They may choose to become:
Sponsored Listings
Administrative Medical Assistants
Administrative medical assistants usually handle phone calls, make appointments, maintain patient records and perform other office duties.
Clinical Medical Assistants
The clinical medical assistants usually work in close proximity with physicians and patients. Their job description involves a multitude of clinical duties like, taking vital signs, recording medical histories, preparing patients for examination, drawing blood and administering medications as per physicians' directions. They also make sure that all the equipment is sterilized and readily available.
Medical Assistant Career Statistics for the U.S
The table below provides a short yet clear description of medical assistant career statistics.
| 2018 Mean Pay | $34,540 per year |
| --- | --- |
| Job Outlook, 2018-28 | 23% (Faster than average) |
| Number of Jobs, 2018 | 686,600 |
| Employment Change, 2018-28 | 154,900 |
Source: U.S. Bureau of Labor Statistics
In 2016, the U.S. Bureau of Labor Statistics reported the national annual mean salary of $32,850 for medical assistants. This figure continued to increase through 2017 and 2018 to $33,580 and $34,540 respectively. Based on these figures, it can be assumed that it is a promising career.
As per the data provided by the U.S. Bureau of Labor Statistics (2018), medical assistants held about 686,600 jobs across country. Junior Colleges were reported as the highest paying institutions with an annual mean salary of $43,670.
Medical Assistant Career Outlook in the U.S
The U.S. Bureau of Labor Statistics presented it as a rewarding career in 2018 with an expected employment growth rate of 23% over the decade (from 2018 to 2028). The following bar-chart of the states with the highest employment level in this occupation would further explain the scope of this occupation.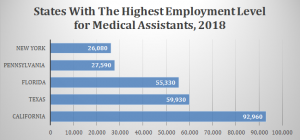 Source: U.S. Bureau of Labor Statistics
Considering the BLS 2018 data, it can be reasoned that demand for preventive medical services will continue to increase due to an increase in aging baby-boom population. Consequently, it is expected that physicians will continue to hire more medical assistants to expand their medical practice.
The future of medical assistants appears to be bright with plenty of job opportunities however, medical assistants who are certified and are familiar with electronic health records (EHRs) might be able to earn more.
You May Also Like

Steps to Become a Certified Medical Assistant
Medical Assistant Schools
Medical Assistant Training